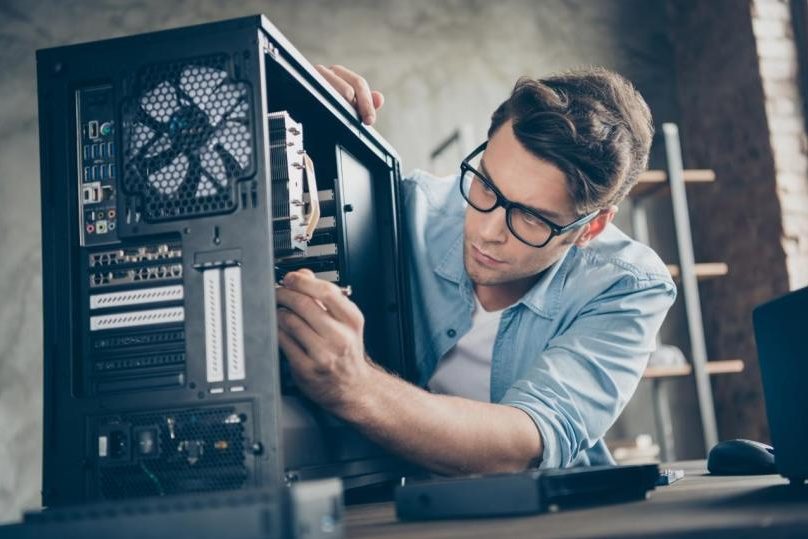 Set up & repairs for laptops and computers
We will visit your home or office and set up, install computers and give you a demonstration. If your laptop/pc needs repairing, we will try and repair it the same day, but on some occasions, where a part is needed, then a time is scheduled. If your laptop/computer needs to be taken back to the workshop, it will be agreed with you in advance and the work is carried out. All kinds of hardware and software repairs resolved with speed and efficiency.
Laptop PC Running Slow, Crashing, Freezing
Tuning up, speeding up, free up hard drive space and get your laptop, computer running in tip top condition.
Printers Setup & Repair
We will visit your home or office and set up. Install or repair any local or network printer. If there is any other printing issue, we can come and resolve it for you on the same day.
Server Setup, Issue
We visit your office and set up your server and install any software, any patches, module or peripherals or deal with any system account administration or if it needs repairing, we will do it.
Virus Removal and Data Protection
If your laptop, personal computer has been infected with a virus or annoying pop-up windows from spy ware or malware DON'T PANIC, we can resolve this with your data backup and restored.
Data Recovery
We can recover important missing, deleted, data, files, photographs and we can recover data from formatted/ wiped hard drive of laptop, Pc, or USB stick, memory card.
Internet, Broadband and Wireless Issues
Complete installation, setup of internet broadband router, wireless setup, switches, modems, dial up internet access, troubleshooting, email issues.
Networking, Cabling
Designing, planning, implementation of office and home networks, operating system, setting up, configuring wireless networks, broadband routers, sharing configuring and fixing internet connection faults. Routers or wireless equipment high speed internet access across a network. We replace, upgrade network cables
Patching Un-Patching, Commissioning De-Commissioning
We do patching and un-patching, whether analog or digital and do Commissioning and De-Commissioning in all offices and in their comms room.
Software/Hardware Services, Upgrade
We are highly skilled in software and hardware troubleshooting including diagnosis and repair of all makes and brands of desktop computers, laptops, printers, servers and any networking equipment and we do upgrades.
Remote Support
If there are any software issues, we do not need to have your laptop or personal computer as we can remotely connect with your computer and can view and remotely fix any problem. We are able to transfer, backup files/data and this is seven days remote support.
IT Sales Support
We have a huge variety of software, hardware, components, peripherals, modules, laptops, personal computers on sale and we technically support as well. We cover all your support requirements whether it is on a call base or on a monthly or yearly basis.